June 7, 2023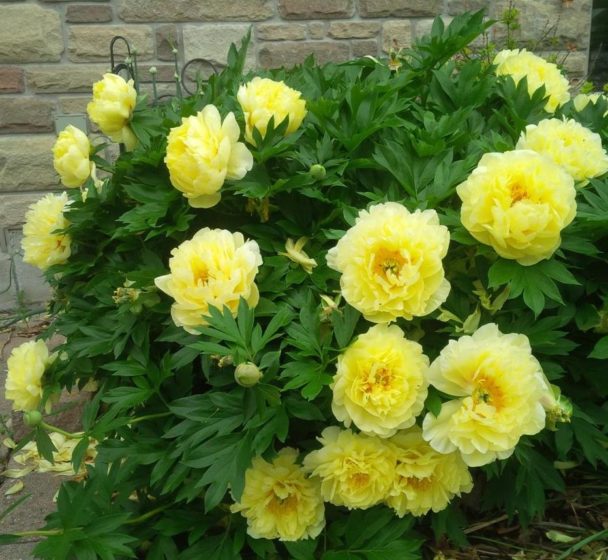 Perennial Plant Profile: Itoh Peony (Paeonia hybrid)
Light: Full Sun
Water: Deeply and regularly in first year; drought tolerant once established
Height and Spread: typically ranges from 24" to 36" (60 to 90cm)
     There are hundreds of Peony varieties out there, and until about 80 years ago only two types were available: Tree and Herbaceous. Tree Peonies are known for their giant and gorgeous blooms, while Herbaceous Peonies are much hardier and can handle cold winters. Then a certain doctor made it his life's work to combine the best of both Peonies, and the hybrid Itoh Peony was born!
A Short History
Dr. Toichi Itoh lived in Japan during the first half of the 19th century, and his legacy is accomplishing the impossible. It was generally believed that the beauty of the Tree Peony and the hardiness of the Herbaceous Peony could never be combined, since the two varieties had very different parentages, not to mention contrasting blooming seasons. But Dr. Itoh took it upon himself to make this dream a reality, making the quest for such a hybrid his life's work. After 20,000 failed attempts, he finally succeeded in 1948 with the first ever cross between Paeonia x lemoinei, a hybrid Tree Peony, and Paeonia lactiflora 'Kakoden', a white flowering Herbaceous Peony that he used as the seed parent. This single success resulted in 36 seedlings, some of which held the dominant characteristics of the Tree Peony thus becoming the first "intersectional" hybrid Peonies. Sadly, Dr. Itoh never saw any of his creations come to bloom; his death in 1956 was the mid-point between his groundbreaking success in 1948, and the first hybrid blooms which finally appeared in 1964.
Oh So Pretty!
Thanks to Dr. Itoh's hard work and inspiring perseverance, we can all enjoy the stunning and ENORMOUS blooms he created! Similar to the Tree Peony, Itoh varieties boast huge single, semi-double, or fully double blooms, reaching up to 7" (20cm) across, in a wide range of colours and combinations. They bloom for weeks at a time, and many produce secondary blooms further down the stems – some mature plants can produce up to 50 flowers in a single season! The plants will die back to the ground every year like their Herbaceous parent, but they also inherited the Tree Peony's sturdy branches which can hold up against wind and rain. Those strong stems also make them the perfect choice for cutting and floral arrangements, or enjoy them as a specimen feature in the garden! Fun Fact: the first four Itoh Peonies introduced to the gardening world were all yellow, and could cost as much as $1,000 for a single division!
Caring for your Itoh
Like other Peonies, your Itoh will need a full sun location with rich, well-drained soil. Be sure to water deeply and regularly for the first year after planting to ensure a strong root system. Adding some bone meal and/or a slow release fertilizer into the bottom of the hole when planting will also help give their roots a boost. Most varieties grow between 2 to 3 feet (60 to 90cm) tall and wide, with a sturdy, upright mound of lush green foliage. As stated earlier, their strong stems can typically stand up to the wind and rain, though they still benefit from the use of a stake or peony ring. They do not need to be divided, and dislike being moved once established. In late fall, the entire plant will die back, either to ground level or a few inches above on woody stems; clean up any dead leaves and branches in early spring before the new growth starts to appear.
Some of our Favourite Itoh Varieties*:
Bartzella – The original yellow Peony! The clear yellow hues make for a stunning specimen in the garden bed!
Cora Louise – Lightly fragrant double blooms of creamy white with lavender and purple flares throughout the petals.
Julia Rose – These single to semi-double blooms can range from shades of coral-red to salmon-orange with creamy yellow blushing.
Hillary – Extra large semi-double blooms change colour as they age! Blooms start out as rosy-pink then fading to cream, with a dark maroon eye throughout the blooming season.
Callie's Memory – Intriguing! Large creamy yellow semi-double blooms are edged with deep russet-red with maroon flares throughout the petals.
Garden Treasure – Extra large, lemony-yellow semi-double blooms have hints of scarlet red at their base.
Lemon Dream – Large semi-double blooms are filled with pale yellow petals, which may feature light lavender streaks.
Old Rose Dandy – Fragrant! Large rose-pink semi-double blooms will darken as they age, with central raspberry-red flares from bud to finish.
*This is a reference listing of some Itoh Peonies. Availability changes throughout the season and from year to year. While supplies last; sorry, we do not hold plants.
---