October 6, 2021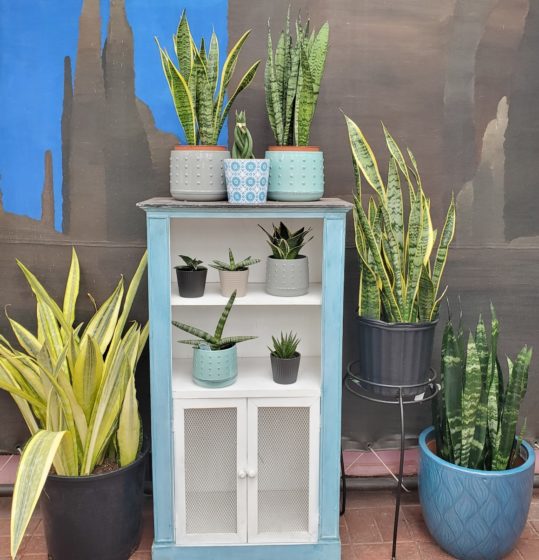 Tropical Houseplant Profile: Sansevieria – Snake Plant
Versatile! Striking! Easy care! Clean air! These are just some words that pop into our heads when we think of Sansevieria, aka Snake Plant or Mother-in-Law's Tongue. Their foliage comes in a wide range of heights, shapes, colours, and colour combinations, but one of their most appealing qualities may be that they can handle just about any type of light condition. So if you've been searching for a houseplant for your dimly lit office/basement/wherever, go for a Snake Plant!
Not only can Snake Plants handle very low light conditions, they're typically slow-growers (especially in low light) so they have a very controlled growth habit. This makes them the perfect fit for an empty corner or on a desk in your office, since their rigid foliage doesn't take up any more real estate than the pot it's in. If you do have a bright, sunny area, try to place your Snake Plant away from the window, since too much direct sunlight can burn their foliage.
The term "easy care" was mentioned earlier, and this is not an exaggeration. Sansevieria prefer to dry out very well between deep waterings, almost to the point of a cactus or succulent; they can even handle being planted in Cactus Soil! And that's it, that's the level of care they need. Did we mention that there's no need to prune? Snip off the rare flower stem as it appears and that will be the only time you'll need your pruners. You can give them an all-purpose fertilizer every 4th watering (remember that you'll be extending the amount of time between waterings during the lower light of fall and winter) but the rest of the time they're quite happy to just sit in their pot looking gorgeous!
Did you know that Sansevieria are some of the best Clean Air houseplants out there? Researchers from NASA have found that many tropical houseplants have the ability to help remove chemicals from the air, and the Snake Plant's large foliage means they can absorb higher levels of toxins than smaller-leaved varieties; they'll even continue to produce oxygen throughout the night to further purify the air! Can this plant family get any better?!
The answer to that is: Yes it can! Sansevieria make exceptional gifts for anyone on your list, whether it be for a birthday/holiday, a housewarming, a student moving away from home, a Secret Santa, or just a thank you to a considerate neighbour! Giving a Snake Plant as a gift really shows that you care about the recipient; you may not know their home lighting or how much space they have to spare for plants, or even if they consider themselves "plant people" but you know that there's always space for a Snake Plant! And with so many varieties to choose from, you could gift a different variety to the same person for years and still keep them guessing.
You know that saying "if you've seen one, you've seen them all"? Well, this certainly does not apply to Sansevieria. Here are just a few of our favourite varieties (please note that our selection changes constantly and quickly, so the varieties listed may not be available at all times):
Laurentii, Zeylanica, Black Coral – Traditional and popular varieties that feature upright, rigid, sword-like foliage that is either edged with yellow (Laurentii) or two-toned with silver-green or black.
Bird's Nest – Short and cute rosette that can be solid green or edged with yellow.
Cylindrica – Upright, slender green fingers can be naturally splayed or even braided!
Tough Lady – Compact but vertical variety with thick, lush green leaves.
Tom Gracillis – Stunning crown of long, slender green foliage.
Jacobi, Sayuri – Long grey-green foliage with beautiful silvery tones.
Boncel – Short, thick leaves that emerge from within each other!
Samurai – Wide, very thick rosette of green foliage with pencil-thin white edges.
---